Wild Wednesday Walks!
We will resume our Wild Wednesday Walks (every second Wednesday of the month) as soon as it is safe to congregate in groups again!
In the mean time, enjoy your birds in your backyard and practice social distancing in our local parks - enjoy the birds and watch for fall migrant birds of Cedar Waxwings, Golden Crowned Sparrows and Evening Grosbeaks!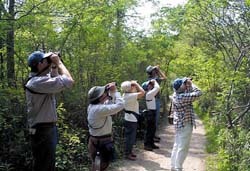 Dress for the weather and don't forget your binoculars!