Christmas Holiday Hours of Operation: December 24th 10:00 am - 4:30 pm
December 25th Closed
December 26th Closed
December 27th 10:00 am - 5:30 pm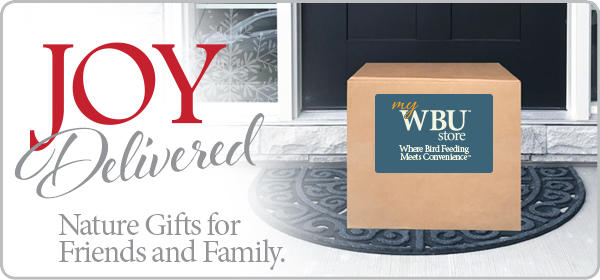 Bird Feeding Makes a Great Gift!
Looking for unique gifts this holiday season? Give a gift of joy with a bird feeder, bird food and other nature gifts from Wild Birds Unlimited! Your loved ones will delight in watching the beautiful birds attracted to their yard - long after the holiday season ends.
Shop now and wrap up your holiday shopping with just a few clicks, when you order online at MyWBU Store. We'll personally pack and ship your order for delivery right to their front door.
Joy. Delivered.
FREE Store Pickup -or- FREE Shipping on Orders of $99 or More*
*Valid only by shopping online at MyWBU Store or by calling us at 604-536-4011 and we can place your order over the phone.
Order ahead for free pickup at the store or get free shipping on orders over $99 that ship within 50 km. Orders of less than $99 or that ship to further destinations will incur a shipping charge shown at the time of checkout. Daily Savings Club points will accrue for online purchases when you register at MyWBU Store with the same email address associated with your DSC membership.